Sound Devices 688
Possibly the perfect machine.
Mixer/Recorder doesn't do this high powered beauty justice.
I took delivery of my Sound Devices 688 pretty much the first day it was available to the public. As a long time Sound Devices 664 user I really didn't have to many expectations for being wowed... Boy was I wrong.
The first thing that struck me out of the box was the solid build and feel of the unit in my hands. Operating the control surfaces they all felt tight (a good tight) with a uniformity feel to their tolerances. The first power up was with AA's and as the vibrant screen came to life with the new vertical meter ballistics I really fell in love with it right then and there.
As I spun the unit around I marveled at how they rethought the foot print for the 664 to really maximize all the potential possibilities in that frame. First up is the 7-12 mini faders in place of the HPF. 633 folks are used to this but I never ventured down the 633 trail and personally rarely would I ever engage roll offs unless it was terribly nessacary to do so.
The Aux busses.... I love aux busses! The 688 has 8 assignable outputs. L/R & X1-X6 (actually 9 with the Comm Out). Four of these are recordable. On the right you see the routing menu for X3 which shows you a pretty enlist amount of combinations for your mixing pleasure. X1&X2 have PFL Screen lockout options as well which prevents accidental changes in the mix selections going to X1&X2. I should mention that the 688 maintains a pair of XLR-M and 2 10 pin outs in addition to the X1 - X 6 TA3's. Personally for bag work I already have X3 & X4 linked as my primary camera hop.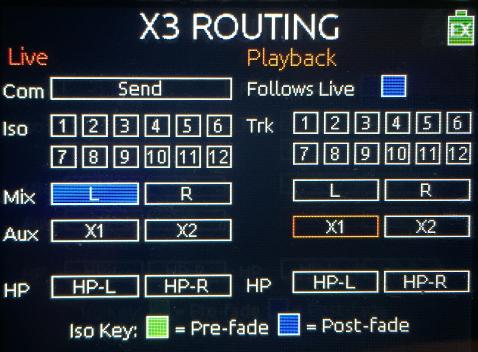 The routing screen provides for an incredible amount of flexibility to tailor your needs on location. Including designating both live and PB configurations. Example: A boom op would want just the boom during live recording but just the track or tracks without the live boom during PB. Notice the Pre-fade & Post-Fade options are available for all inputs.
Of course the 688 living in the DSP world has marked the return to the full range of sample rates up to 192k and all the input / output delay options which brings me to another section I truly love...
The Output Delay Screen seen to the right is incredibly handy and fast! Whatever frame rate you're working in is automatically loaded and all you need to do is select mS's or Frames and dial your delay to match, for example, video village that is being processed and slowed down.
Output Delay Screen. Here I have X3 & X4 linked and have selected a 1.1 frame or 38 mS delay.
Straight into my bag... The Sound Devices 688 is a work of art!
Above is the vertical meter display that I really like a lot!
The 688 is packed with features:
MixAssist
Input/Output Delays
Routing Live/PB Tracks
8 Output Buses
3 Camera Returns / 1 Comms Return
12 Analog Inputs (6 mic pres / 6 TA3 line level)
16 Track Recorder 192K / 24 bit
WAV. / mp3 Timestamped
Power Safe File Protection
Fast Power Up
AES Outputs
Tone Routing Control to all Tracks
Sound Report
And Super Slot...... :-) I'm curious about that



Finally, MixAssist where it really belongs!
I am genuinely thrilled with the launch of the Sound Devices 688. SD has taken the bag experience to an entirely new level of expertise giving us not only the tools we crave to complete our job but to do it in such a beautifully thought out way that the mixer just becomes part of the dance that we perform everyday. We are often tasked under tremendous pressure with challenge after challenge in very hostile environments. The intuitive nature of SD products allows me to focus on keeping my head up and not get bogged down in the technology. The Sound Devices 688 epitomizes that philosophy and is, in my opinion, alone on the shelf for extreme bag work.
Thom Shafer, Cleveland Ohio www.televisionsound.com
"Being a great mixer is knowing what sounds good and what doesn't as it applies to the situation you find yourself in..." - Thom Shafer